XXIV International Conference on Material Handling, Constructions and Logistics
SPECIAL SESSION E:
MARITIME AND PORT LOGISTICS - MPL
VENUE AND HOST CITY
Venue – Hotel Princess Bar, Montenegro
The Special Session of the MHCL 2022 Conference – Port and Logistics will be held in December 2022, in Bar, Montenegro, with the organization, guest lectures and papers presentations in Hotel Princess, Bar, in Conference Room showed on the following pictures.
HOTEL PRINCESS (4 stars) is located at the most attractive part of Bar, nearby the promenade along the sea shore, and is surrounded by lush vegetation, museum complex and sport terraines. Rooms and apartments are comfortable and contemporarily designed, with exceptional views of the marina, beach and sea, palace and mountains at the town s hinterland. Hotel has 135 rooms, which offer modern comfort: mini bar, air conditioner, satelite & cable TV, safety deposit box, as well as all neccessary accesories and room service.
Choose the bathroom you want: with bath tub and shower bath tub; only with bath tub or only with shower bath tub. Our restaurants offer specialties of national & international cuisine, various drinks, accompanied with good service. Lobby & Piano bar are pleasant spaces for rest, while having a drink and conversation with business partners or friends. You can enjoy and also have a drink or try some sweets or cakes at the Pool bar, from which you can go out to the pool and spacious terrace of the hotel.
More information on this page: https://www.hotelprincess.me/Hotel-Princess-Montenegro/1/Home.shtml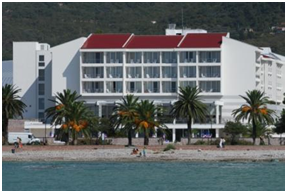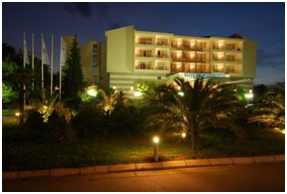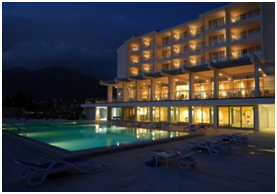 Conference Rooms in the hotel Princess: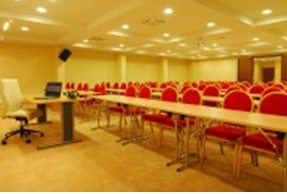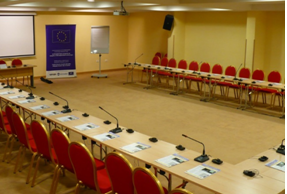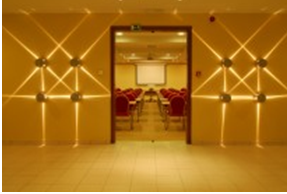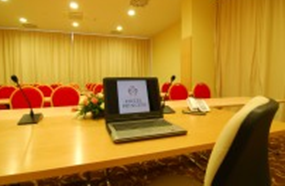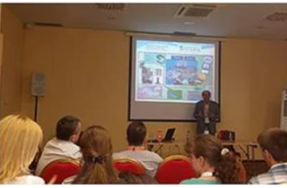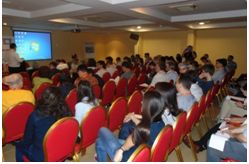 City of Bar
Bar is a coastal town and seaport in southern Montenegro and it is the capital of the Bar Municipality and a center for tourism. As mentioned, Bar is located on the coastal western border of Montenegro on the shore of the Adriatic Sea. It is approximately 53 kilometres (33 mi) from Podgorica, the capital of Montenegro.To the east is the largest lake in the Balkans, Lake Skadar. To the west, across the sea, is Italy.
Bar is the administrative centre of Bar Municipality, which includes the town of Sutomore and other small coastal towns. A census in 2011 recorded 42 thousand people in the Bar Municipality, while the Bar city had about 18 thousand inhabitants.
Regarding the climate, Bar has a wind blowing from the south about 88 days a year, mostly during the winter. The southern wind is very soft and warm but raises the waves in the sea. The temperature is as in July – about 28 °C (82 °F). There are approximately 2160 sunny hours a year. Thanks to this good climate the coastal part of Bar supports maquis shrubland with oak, laurel, Spanish broom, oleander, asparagus and others. To the north and the mountains, there are oak and beech forests. Citrus fruits including tangerine, orange and lemon grow in the Bar area as do pomegranates, olives, and figs.
The economy of Bar relies upon the Port of Bar, the Belgrade–Bar railway and the Sozina tunnel. The Port of Bar is the most recognizable feature of the city. It occupies 3,100 m of seacoast, land area of 800 ha and aquatorium of 200ha. It is capable of reloading 5 million tons of goods annually. In 1976, the Belgrade – Bar railway was opened. It made the Adriatic coast accessible to tourists, and transport to the Port of Bar. The centre for subtropical cultures, founded in 1937, is the oldest scientific institution in Montenegro. Tourism is also a major part of Bar's economy.
Places of interest for touristic visits are the following:
The Old Olive of Mirovica is said to be one of the oldest olive trees in Europe and one of the oldest trees in the world. In 1957, it was placed under state protection. Numerous legends and traditions are associated with the tree. For instance, families that had a dispute would come to the tree to make peace. This explains its name, Mirovica, mir meaning peace.

Old Olive of Mirovica – about 2000 years old

King Nikola's palace was built in 1885. It was a present from King Nikola to his daughter Princess Zorka and his son-in-law, Prince Petar Karađorđević. The construction included a large palace, a little palace, a chapel, guardhouses and a winter garden. In 1910, it has been made a botanic garden with Mediterranean vegetation including a cork tree. At the front of the palace, there was a wooden pier until World War I, and between 1866 and 1916, King Nikola owned ten yachts. One of them, Sibil, was bought from Jules Verne, the novelist. The palace complex houses the Bar city museum. It is also used as a venue for festivals, concerts, exhibitions and literary events.

King Nikola Palace

Botanic garden around the Palace

Museum in the Palace

Mount Rumija Fortress and Holy Trinity Church



Mount Rumija (under the snow)

Holy Trinity Church on the top of Mount Rumija

Nehaj Fortress, partially preserved, is located near the small seaside town of Sutomore. It has been held by both Venetians and Ottoman Turks



Nehaj Fortress

The Bar Aqueduct was constructed during the 16th and 17th centuries.



Bar Aqueduct

The Bar municipality has over 44 kilometres (27 miles) of sea coast. There are twenty beaches stretching over 9 kilometres (6 miles). In the north is Čanj, which has a 1,100-metre (3,600-foot) sandy beach. A boat takes tourists from Čanj to the Kraljičina Plaža. It lies below a natural wall of sedimentary rock. Also, about 10 kilometres (6 miles) south of central Bar is the 380-metre-long Veliki Pijesak which is surrounded by numerous tourist facilities, restaurants and discothèques.

City Beach

Beach of Šušanj

Beach Veliki Pijesak
Port of Bar
The Port of Bar is Montenegro's main seaport. Initially built in 1906, the port was almost completely destroyed during World War II, with reconstruction beginning in 1950.
The first phase of the reconstruction was completed in 1965. The second phase that had in its plan an annual turnover of cca 5 million tons of cargo was almost completed, when the catastrophic earthquake struck in 1979, destroying more than half of its modern port facilities.
The reconstruction and renewal of the port's facilities started in 1981 and today's port of Bar, capable of handling cca 5 million tons of cargo, officially began operations on July 13, 1983.
Today, it is equipped to handle over 5 million tons of cargo annually, though the breakup of the former Yugoslavia and the size of the Montenegrin industrial sector has resulted in the port operating at a loss and well below capacity for several years. The reconstruction of the Belgrade-Bar railway and the proposed Belgrade-Bar motorway are expected to bring the port back up to capacity.
Port of Bar operates with the following terminals:
RO - RO Terminal
Timber Terminal
Container Terminal
General Cargo Terminal
Bulk Terminal
Grain Terminal
Liquid Cargo Terminal
Passenger Terminal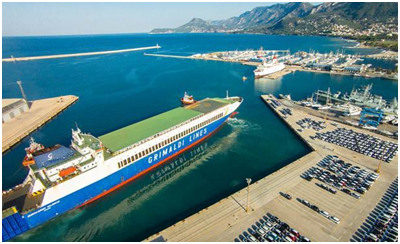 Ro-Ro terminal in Port of Bar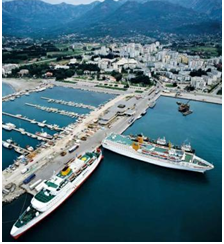 Ferry terminal in Port of Bar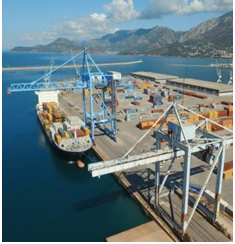 Container terminal in Bar
Port of Adria, as a structural part of Port of Bar, is located on the western border of Bar in Montenegro. Strategically located non-EU port in the Adriatic region. Global Ports Holding acquired the operating rights of Port of Adria through privatization in 2013. GPH owns 62.09% shares in Port of Adria. Port of Adria is a multipurpose port featuring quay length of 1,440 m with dedicated terminals for container ships, general cargo ships, RO RO and cruise ships.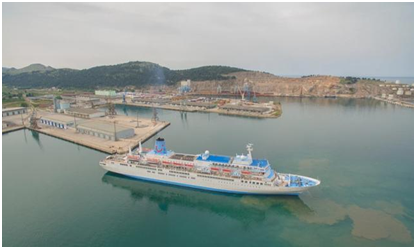 Cruise ship in Cruise Terminal – Port of Adria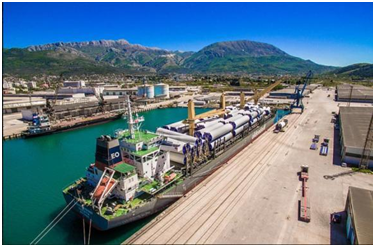 General Cargo terminal in Bar
AD Marina Bar
Marina Bar is located in the heart of the bay of Bar, 42 0 05 'N and 19 0 05' E, has a very attractive geographical and geopolitical position. Situated in the city center, next to the city beach surrounded by high quality infra and supra structure consisting of hotels, restaurants, banks, post office, Harbor Master.
Due to its favorable geographic position Marina Bar is an ideal starting point for sailing the picturesque Montenegrin coast, bays and harbors.
Marina Bar is located in the city center and is surrounded by restaurants, cafes, shopping centers, green market, post office, banks, museums, cultural and historical monuments.
Its advantages are numerous: security, technical and human resources, a high level of safety and concern for people and property, proximity to airports and railways. AD Marina Bar is providing the following services and services information:
Services berth / dry berth
Service hangar - Yacht service and repair of marine engines
Parking for 300 vehicles
Petrol stations
Getting information for safety of navigation / weather
The bathroom and sanitation
Regular supply terminals on piers with water and electricity
7/24 Control and Security
Free WI FI zone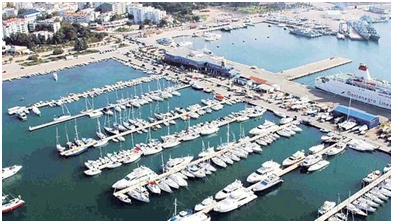 AD Marina Bar gates and area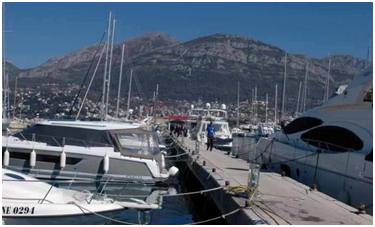 Pier in the AD Marina Bar in the summer season
The AD Marina Bar has been awarded the exclusive "Blue Flag" eco-label since 2017. Owned and run by the independent non-profit organisation Foundation for Environmental Education (FEE), the Blue Flag Programme works towards attaining sustainable development at beaches and marinas by having them meet strict criteria regarding their water quality, environmental education, information, safety, management and other services.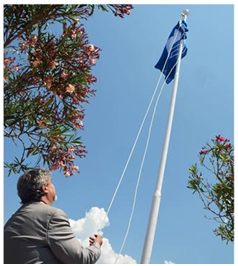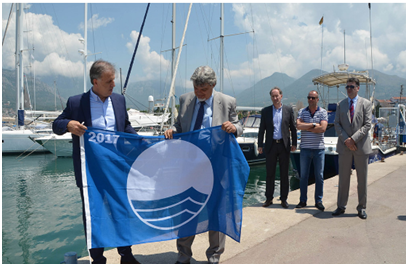 Ceremony of Blue Flag Programme award, June 2017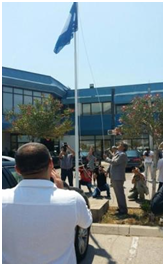 Also, at the end of May 2017, AD Marina Bar became the first marina in Montenegro to be certified with ISO 9001:2015 and ISO14001:2015. TÜV Rheinland awarded the certifications.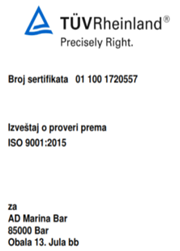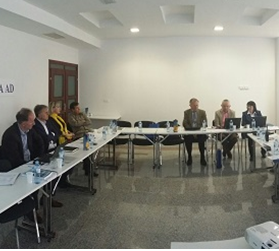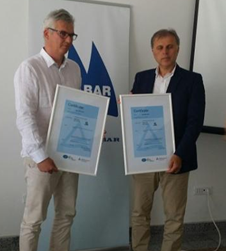 Integrated Management System (ISO 9001:2015 & ISO 14001:2015) award by TUV Rheinland in AD Marina Bar