XXIII International Conference on Material Handling, Constructions and Logistics
SPECIAL SESSION E:
MARITIME AND PORT LOGISTICS - MPL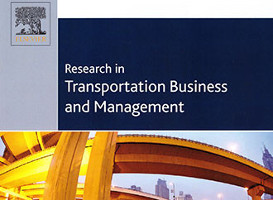 Call for papers: On Themed Volume 'Data Analytics for International Transportation Management' in Research in Transportation Business and Management
Call for papers: On Themed Volume 'Data Analytics for International Transportation Management' in Research in Transportation Business and Management
Themed Volume Editors: Wei Yim Yap, Singapore University of Social Sciences and Jasmine Siu Lee Lam, Nanyang Technological University, Singapore
Data analytics can be broadly defined as the process of analysing sets of data for the purpose of deriving conclusions based on the information contained. The application of data analytics in transportation business and management has seen its widespread use especially in the areas of descriptive analytics, diagnostic analytics, predictive analytics and prescriptive analytics. Increasingly, we are witnessing data analytics being applied beyond the scope of individual companies and organisations to include partners and stakeholders with the purpose of enhancing performance and competitive offering of an entire community system. Advances in technology particularly in the areas of artificial intelligence and big data also hold immense possibilities for data analytics to bring about innovative and transformative solutions to the area of transportation management. The nature of derived demand faced by the transport industry also means that the transportation sector becomes an important, and in some cases, a critical enabler of economy and society. In many instances, we are beginning to see the role of technological innovations becoming not only as a support to the transport sector, but instead define the nature of the business. With ongoing developments and progress in areas such as automation, robotics and Machine Learning, more significant changes are expected to transform the transportation sector in momentous ways than we can anticipate.
In view of the fast-changing landscape and developments in this area, the journal volume aims to publish a collection of research papers focusing on data analytics for international transportation management. The transportation modes involved can be air, sea, land, intermodal, and multimodal. The perspectives from private companies and the public sector are both welcomed. Studies should draw attention to managerial implications as well as pertinent issues and challenges concerning data analytics' application to international transportation.
Potential topics include, but are not limited to:
Artificial intelligence in international transportation
Big data and Internet of Things
Diagnostic analytics for transport asset management
Diagnostic analytics for transport sustainability issues
Digitalization in international transportation
Emerging technologies in transport data management
Forecasting techniques by utilizing data analytics
Data analytics for enhancing transport safety and security
Data-driven airport/inland terminal/seaport planning and operations
Data-driven airline/railway/shipping planning and operations
Data-driven intermodal and multimodal transportation
Data analytics for transport investment decisions
Human factors and data analytics
Prescriptive analytics for enhancing customer service
Relationship between data analytics and innovation in international transportation
Transportation network analytics
Abstracts (300 words maximum) should be submitted to Wei Yim Yap wyyap@suss.edu.sg or Jasmine Siu Lee Lam sllam@ntu.edu.sg for review purposes. Following the feedback from the editors, the full paper should be submitted via EVISE on the RTBM website by the 15th July 2019. It is important that during the online submission authors choose the right themed volume, i.e. "SI: Data Analytics ".
Proposed Schedule 15th July 2019 Deadline for full paper submission
Early 2020 Volume Publication
https://www.journals.elsevier.com/research-in-transportation-business-and-management/call-for-papers/call-for-papers-data-analytics-international-transportation